About Easton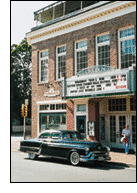 Mythology and nostalgia have given us the All-American hometown that never was; a place where the sun is always bright, cookies are always coming out of the oven, the paint is always shiny, and the flowers are always in full bloom …
Well! Easton is far more real than that!
Easton, Maryland, "the 8th Best Small Town in America" is an arts and cultural center with a population of over 16,500+ individuals who love living in a small town that offers the best of many worlds; access to large metropolitan areas like Baltimore, Annapolis, Washington, and Wilmington; good health care from a strong local hospital and medical community; casual and gourmet dining; shopping for all budgets from collectibles to fine antiques; eclectic art galleries; numerous public golf courses; the splendid Chesapeake Bay and its tributaries in their backyard for sailing, canoeing, kayaking, and crabbing; a historic Town Center with Colonial and Victorian architecture; and an active local community that welcomes new ideas and enthusiasm.
Easton has deep historical roots; in 1711, the first courthouse for Talbot County established the site of the town and it has been the center of trade and government ever since. Since the earliest days, the town residents have been people who came to do business, participate in county government, and be a part of the community's future. Today's residents are no different; many have moved to Easton for the same mix of small town community life and economic opportunity that have been attracting people since the early eighteenth century. This is not a static, backwater group of people!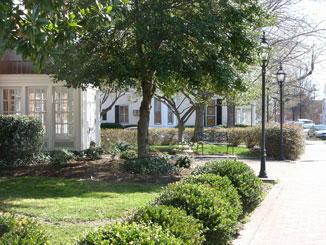 So, what does Easton feel like?
What is it about the place that makes you know you are in Easton?
What keeps people coming back?
A local family might say that Easton feels like home. A town with big porches on old houses, big trees along shady streets, Little League baseball and 4th of July at the VFW, downtown shops and a fine library, neighbors you know and neighborhood schools.
A retired couple that enjoys visiting Easton might think of the Waterfowl Festival in early November, the charm of the Historical Society, the Avalon Theater, and the Academy Art Museum; the fine restaurants and the hospitality of the Bed and Breakfast innkeepers; and the courtesy of the shopkeepers and the success of the Historic District in protecting the fine old buildings and gardens.
Sailors and sportsmen would be enthusiastic about the world class sailboat racing and cruising, and also fishing, hunting, and golfing.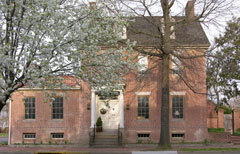 High-tech business owners would point out that they can enjoy a great quality of life while being an hour or two away from major commercial centers by excellent highways or by air from Easton's municipal airport.
But … back to the mythology! Easton is a real place, not a nostalgic "Main Street USA" as envisioned by Disney World. What Easton DOES have is a great mid-Atlantic climate where the outdoor activities are enjoyed from April through November, an enthusiastic citizenry that takes pride in the Town's past and has worked hard to protect its architecture and landmarks, and a historically based central role as the court and business center of Talbot County.
OUR TOWN'S CREED
I BELIEVE in Our Town – first, last and all the time;
I BELIEVE it's the Best in the Land.
I BELIEVE in our ideals of "Boost Our Town – Buy at Home."
I BELIEVE in our institutions, religious, education and commercial.
I BELIEVE in Peace – not Strife.
I BELIEVE in talking Prosperity – not Depression.
I BELIEVE in Service – not Servitude.
I BELIEVE in making Our Town a power in the State, and if we all get together, BOOST and BUY AT HOME it will make all highways into Our Town real 'HIGHWAYS TO SUCCESS.
I BELIEVE in Encouragement – not Criticism.
I BELIEVE in spreading Good News – gossip is Social Poison.
I BELIEVE in Boosting – not Knocking.
I BELIEVE in Truthfulness – Falsehood is a liability.
I BELIEVE in our Home Blessing.
I BELIEVE in Preparedness today for the greater tasks of tomorrow.
A man who neglects his duty as a citizen of his own town is not entitled to his rights as a citizen of any town.
Historic Sites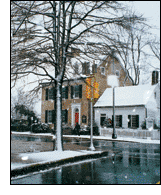 Easton was originally named Talbot Court House, later Talbot Town. In 1788 the town was organized and renamed Easton. The town is also a "Cathedral Town", being the location of the Episcopal Diocese of Easton. The town also is distinguished for numerous "firsts" on the Eastern Shore. Easton had the first newspaper, the first bank and the first gas plant, the first steamer line to Baltimore and the first airplane to Baltimore.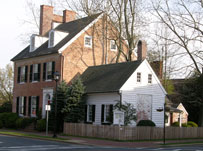 The Bullitt House – is located at the corner of Dover & Harrison Streets. Built in 1801 by Thomas James Bullitt, an early president of the Easton National Bank, financial leader of the Eastern Shore and progenitor of the noted Bullitt family of Philadelphia.
Historical Society of Talbot County is housed in a 19th-century building and features a three-gallery exhibit of Talbot County history. Guided tours of three restored houses are offered: the James Neall House, built in 1810, the Joseph Neall House, built in 1795, and a 17th century reconstruction named "Ending of Controversie." The Society's Federal- style gardens have won state and national acclaim, and a restored 18th century house serves as a consignment antique shop, with proceeds to benefit the Society. Self-guided walking tour maps of historic downtown Easton are available. 25 South Washington Street, 410-822-0773. http://www.talbothistory.org
Academy Art Museum is located in a renovated 1820s schoolhouse. Its 24,000 square feet are the product of a renovation that merged two historic buildings creating five galleries, art and dance studios, conference rooms, library, and light flooded atrium. The Academy is the Eastern Shore's premier art museum, and is nationally recognized for its exhibitions, performing arts, and arts education. Annually, the Museum hosts over 65,000 participants in 300 visual and performing arts programs. The Academy's permanent collection includes works by many of art history's most recognized figures of the 19th and 20th centuries. 106 South Street, 410-822-ARTS (2787), http://www.art-academy.org
Third Haven Meeting House & Cemetery located at 405 South Washington Street was built in 1682 and believed to be the oldest framed building dedicated to religious meetings still existing in America. The Meeting House was built at the headwaters of the Tred Avon River, with many Friends coming by boat to attend the monthly all-day meetings. Two years were consumed in its construction, as the timbers had to be hewn with a broadax and finished with tools available at that time. Among the early builders was William Southeby, said to be the first native American to write against slavery. Meticulously restored in 1990, meetings continue to be held on Sunday mornings at 10 AM. Visitors welcome. 410-822-0293. http://www.thirdhavenfriends.org
Historic Avalon Theatre, built in 1921 as a movie/vaudeville house, was restored to its original art-deco style in the late 1980s with state-of-the-art sound, lighting, and comfort. The 400-seat theatre offers a year round schedule of performing arts, community events, and educational programs. 40 E. Dover Street, 410-822-0345, www.avalontheatre.com
Christ Church is a distinctive granite structure, built in 1840-44. The stone edifice is of the early English style, having a tower surmounted with a spire. The adjoining parish house was built in the 1890s. 111 South Harrison Street, 410-822-2677.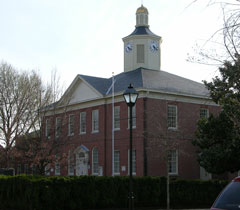 Talbot County Courthouse first built in 1712 and expanded in 1794, was the center of the legislature for "the colonial Capital of the Eastern Shore" during the Federal period, and now houses the seat of government for Talbot County. The present complex of buildings was completed in the late 1950s. 11 North Washington Street, 410-770-8001.
Spring Hill Cemetery – Aurora and North Streets. Spring Hill Cemetery includes the remains of many distinguished politicians. Three former Maryland governors are buried here. The first is Samuel Stevens, Jr. , 1822 to 1826, for whom Stevensville is said to have been named. Daniel Martin served as Maryland's governor twice, from 1828 to 1829, & again in 1830 to 1831. Martin died in office in 1831. Philip Francis Thomas, governor from 1848 to 1851, as well as, Maryland's first Comptroller, is also buried in Spring Hill Cemetery. Other notable politicians include State Delegate Isaac Ambrose Barber, Chief of the District of Columbia's Supreme Court, James Harry Covington, U.S. Senator Samuel Hambleton, and six term Maryland Secretary of State, Richard Carmichael Hollyday.
Beneath an old tree near the rear of the property is the marker for the little drummer boy who was among the youngest soldiers to serve during the American Revolutionary War. Solomon Barrott was the last surviving Continental soldier of the famous Maryland Line. Distinguished people buried in Spring Hill include Baseball Hall-of-Famer, John Franklin "Home Run" Baker, boat builder C. Lowndes Johnson, local historian Samuel Alexander Harrison, Martin M. Higgins, Easton first elected Mayor, Thomas Perrin Smith, who founded the Republican Star, (today's Star Democrat), over two hundred years ago.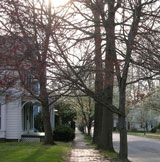 Trinity Episcopal Cathedral on "Cathedral Green", is of traditional Gothic design in granite, brought in by water. The Diocese of Easton was formed in 1868 and stipulated that a Bishop be in residence here. Trinity Cathedral purchased two lots on Goldsborough Street and the Chapel was started at once. The first Bishop was the Right Rev., Henry C. Lay. The architecture of the building derives from a movement in England around 1840 to construct Churches based on early Gothic parish churches and chapels. The steeple was added to surmount the tower in 1978. The interior is well worth a visit. All windows are stained glass, picturing New Testament scenes, and the Altar Cross of Greek type is unique. Goldsborough Street.
Bishop's House Bed and Breakfast is a circa 1880 Victorian, built by Captain Edward Roberts for Philip Frances Thomas and Clintonia Wright May Thomas. The Honorable Philip Frances Thomas was governor of the State of Maryland, 1848-1851, and the State of Maryland's First Comptroller. Upon the death of Philip Frances Thomas, the house and property were sold to the Trinity Episcopal Church, serving as the residence for the Bishops of the Diocese of Easton. The name designation as The Bishop's House was used in identifying the house at the formation of Easton's Historic District. Architectural features of the three and 1/2 story clapboard and gabled roof home includes first floor rooms with 14 foot ceilings, plaster ceiling molding and ceiling medallions, second floor guest rooms with 12 foot ceilings and working fireplaces and a rectangular oriel window with a three sided bay window on the first floor. The gently sloping standing seam roof of the wraparound porch is carried by double square columns. 214 Goldsborough Street, 410-820-7290. www.bishopshouse.com
Places of Worship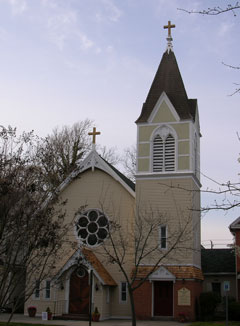 Anglican
Holy Cross Anglican Church
410-820-8608
29383 East Kennedy Street
Apostolic
Easton Apostolic Church
410-222-8342
410 Glenwood Avenue
Fountain of Life
410-822-0104
9678 Cordova Road
Baptist
Faith Bible Baptist Church
410-322-9539
30589 Dover Road
First Baptist Church
410-822-4241
115 Idlewild Ave.
Union Baptist Church
410-820-7264
223 Glenwood Avenue
Easton Church of the Brethren
Stewart & Harrison Streets
410-822-0475
Christian Science
First Church of Christ, Scientist
410-822-1133
501 S. Washington St.
Church of Christ
Church of Christ in Easton
410-763-7307
517 East Dover Street E-mail: churchofchristeastonmd@yahoo.com
Discovery Christian Church
410-819-8611
10441 Hiners Lane
Church of God
Church of God
410-822-3088
1009 N. Washington St.
Episcopal
All Faith Chapel
410-822-1464
26281 Tunis Mills Road
Charismatic Episcopal
410-820-7295
St. Simon Peter
29383 E. Kennedy Street
Christ Church
410-822-2677
111 S. Harrison Street
Episcopal Diocese of Easton
410-822-1919
Trinity Cathedral
410-822-1931
315 Goldsborough St.
Friends
Third Haven Friends Meeting
410-822-0293
405 S. Washington St.
Holiness
Mount Pisgah Church
410-819-0180
209 Port Street
Independent
The Church On Fire
410-763-6558
7847 Ocean Gateway Highway
Talbot Bible Church
410-822-1110
9114 Chapel Road